FriXion Point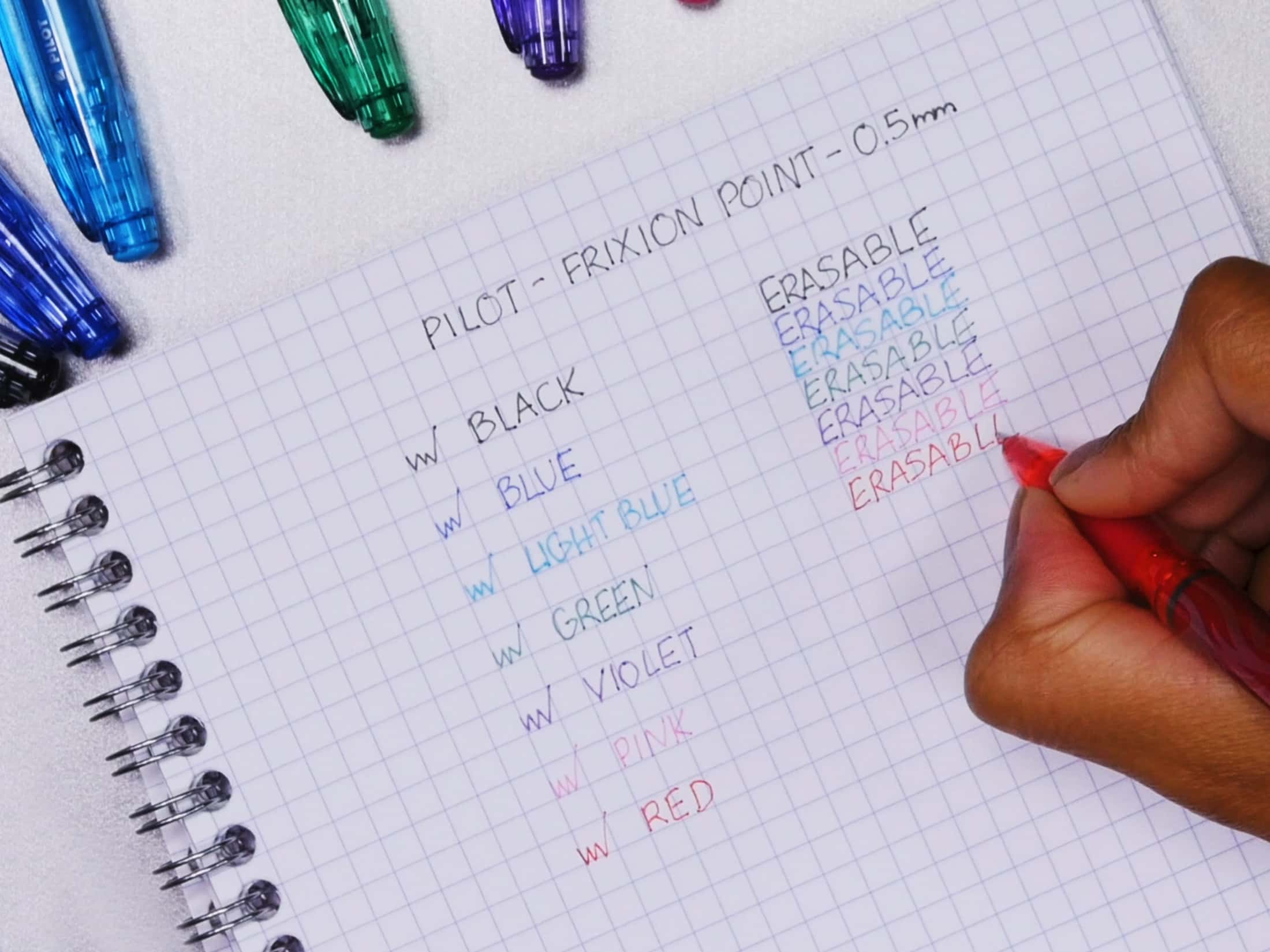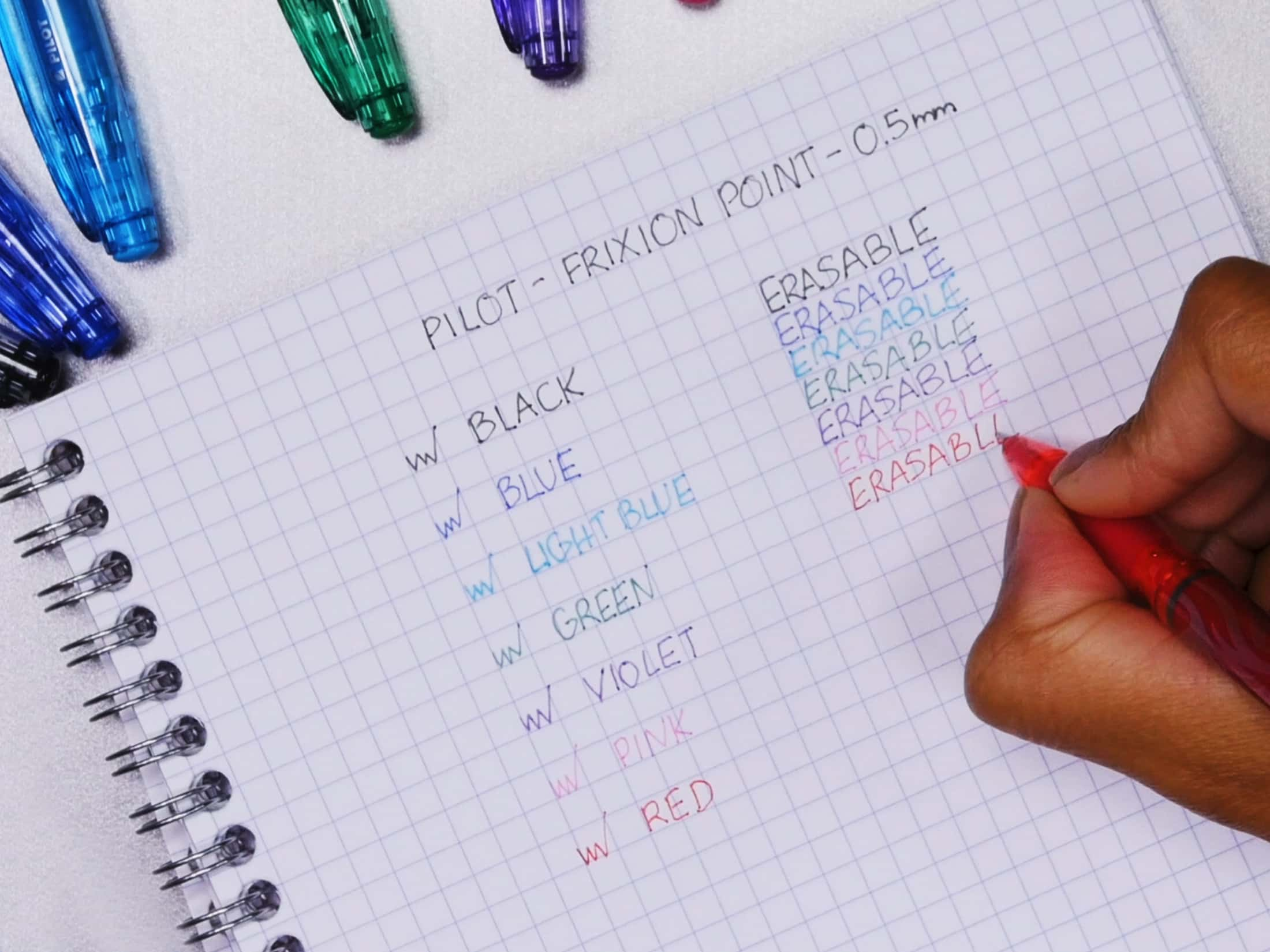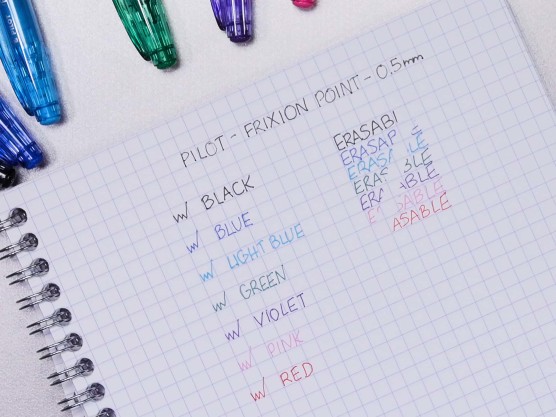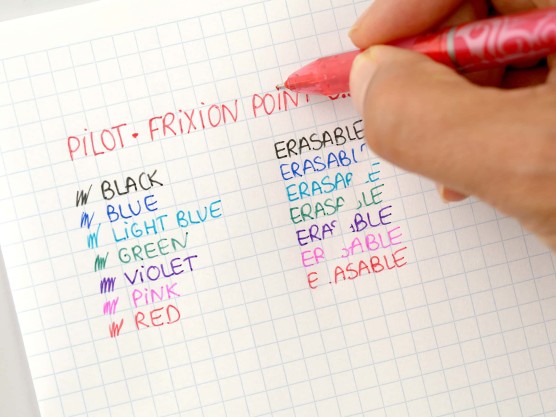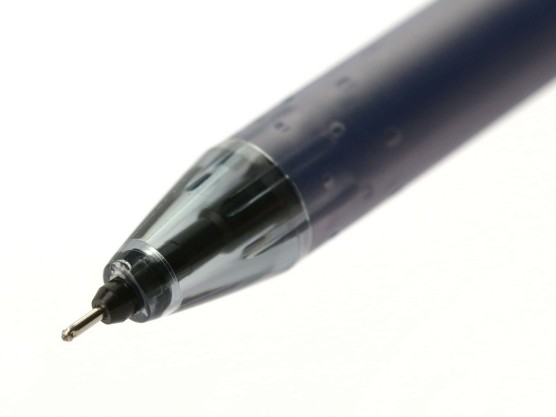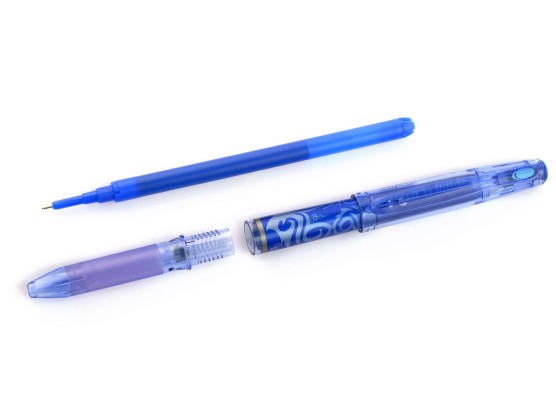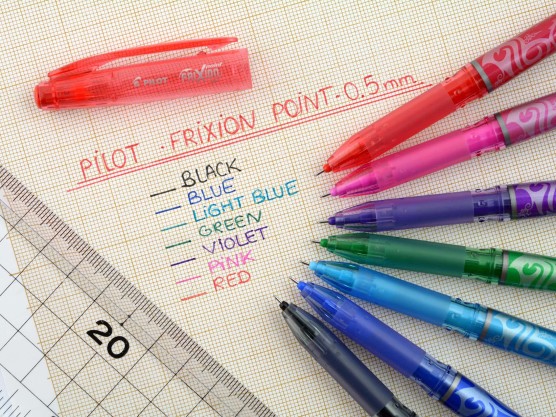 Keep the best, erase the rest with the most thin and precise of the FriXion Family!
Write, Erase, Repeat! NEVER cross out again with FriXion Point,
the HIGH PRECISION erasable pen from Pilot!
Fine tip
:
0.5
mm
Writing width :
0.25
mm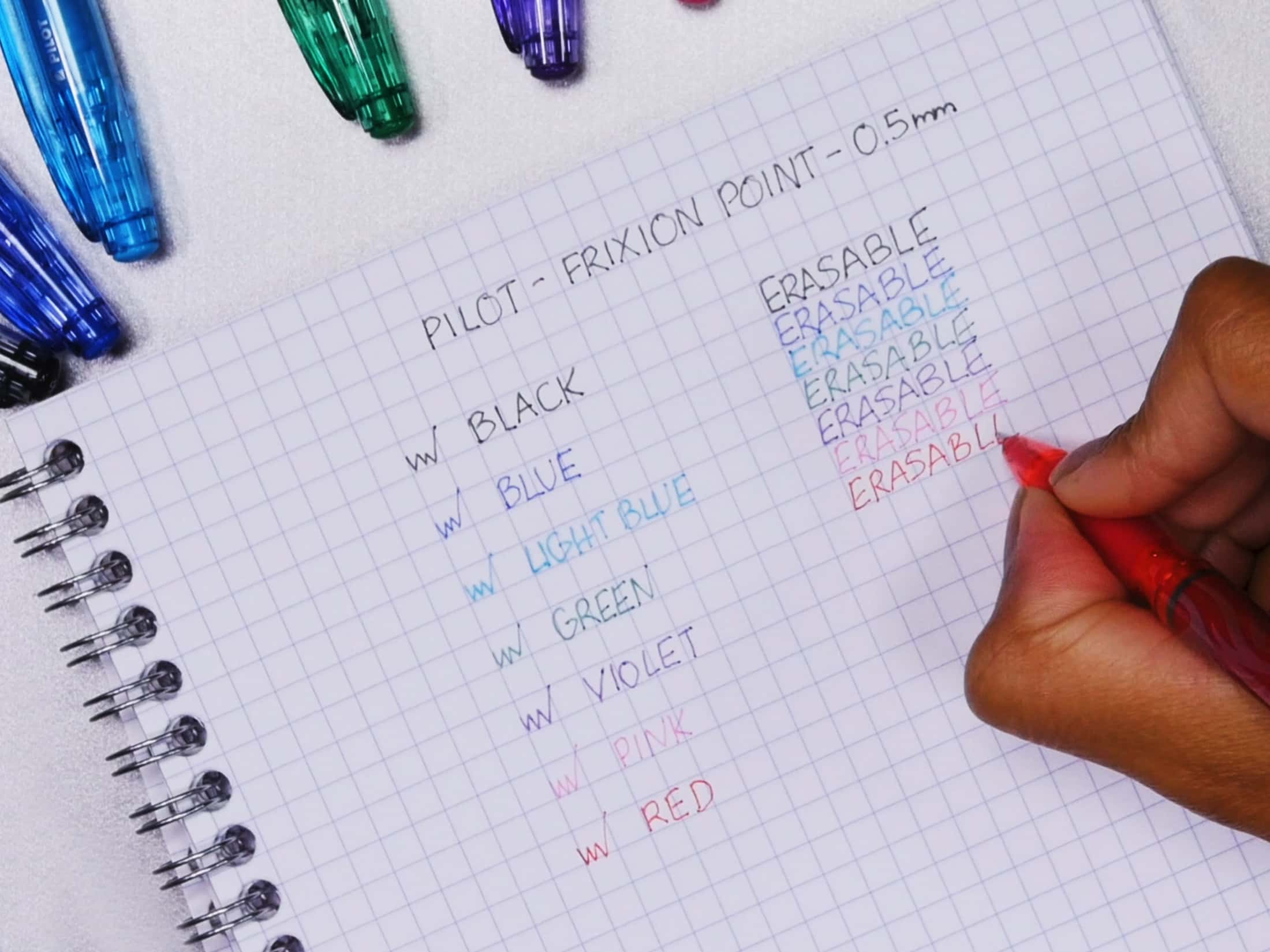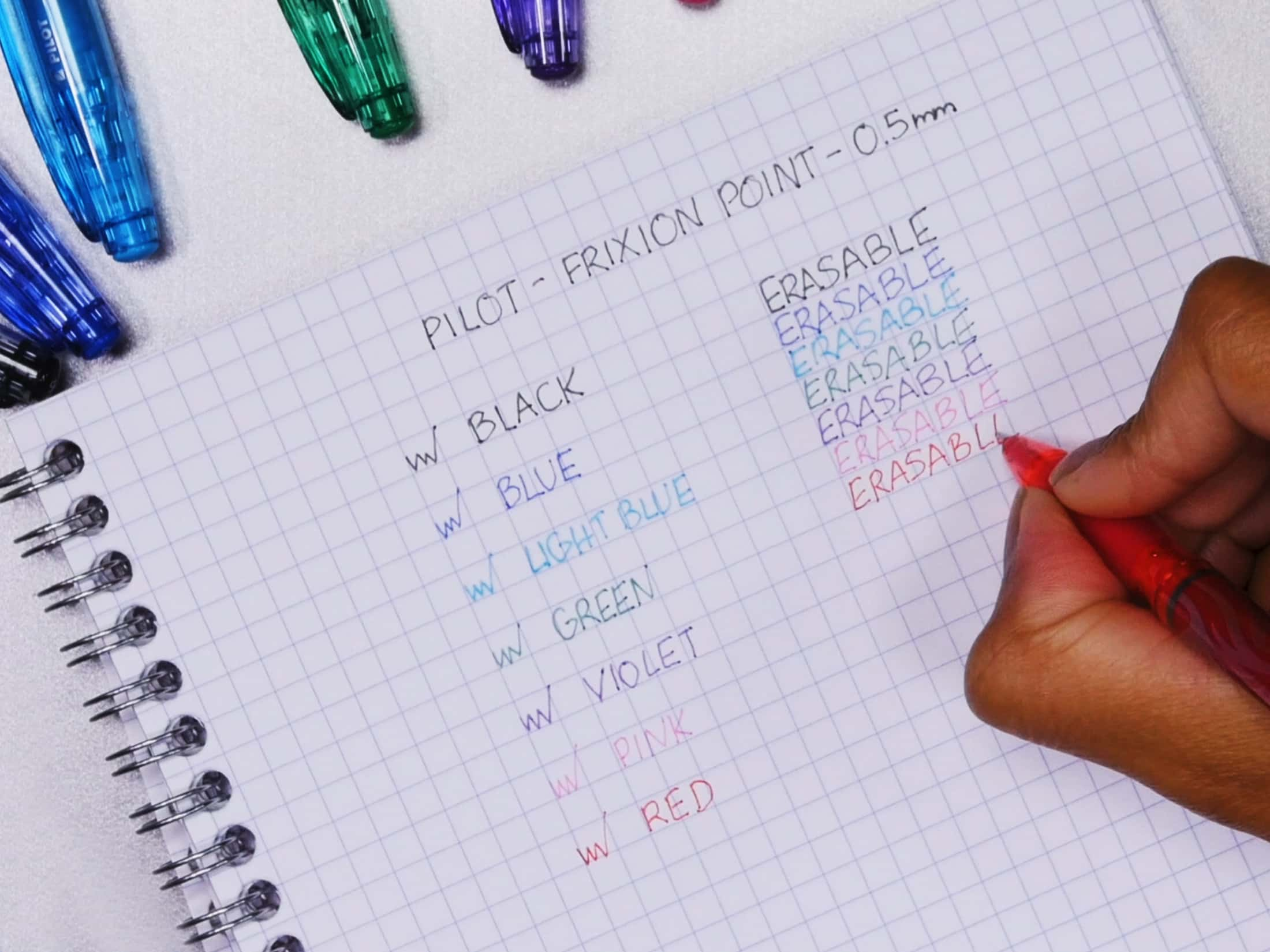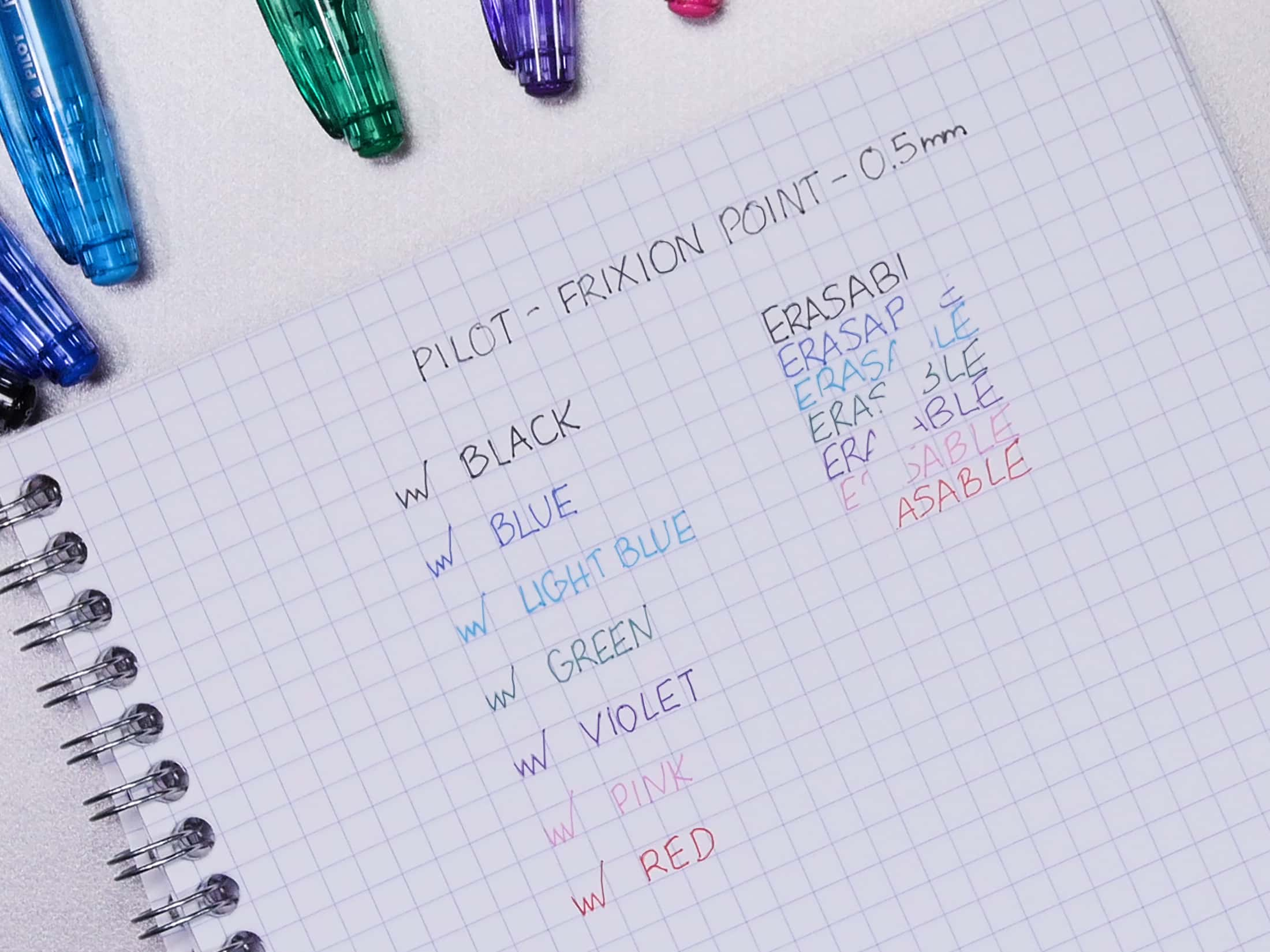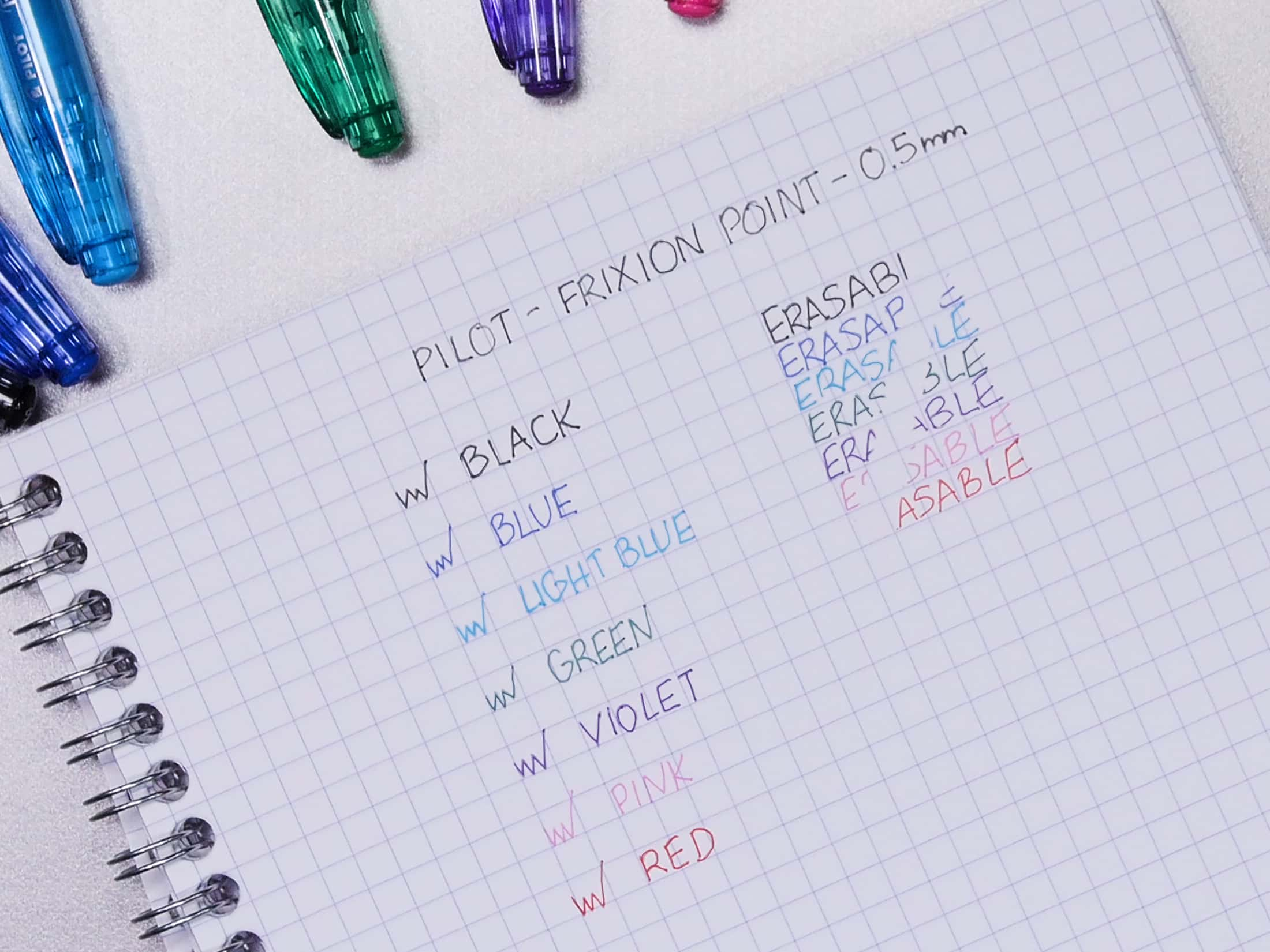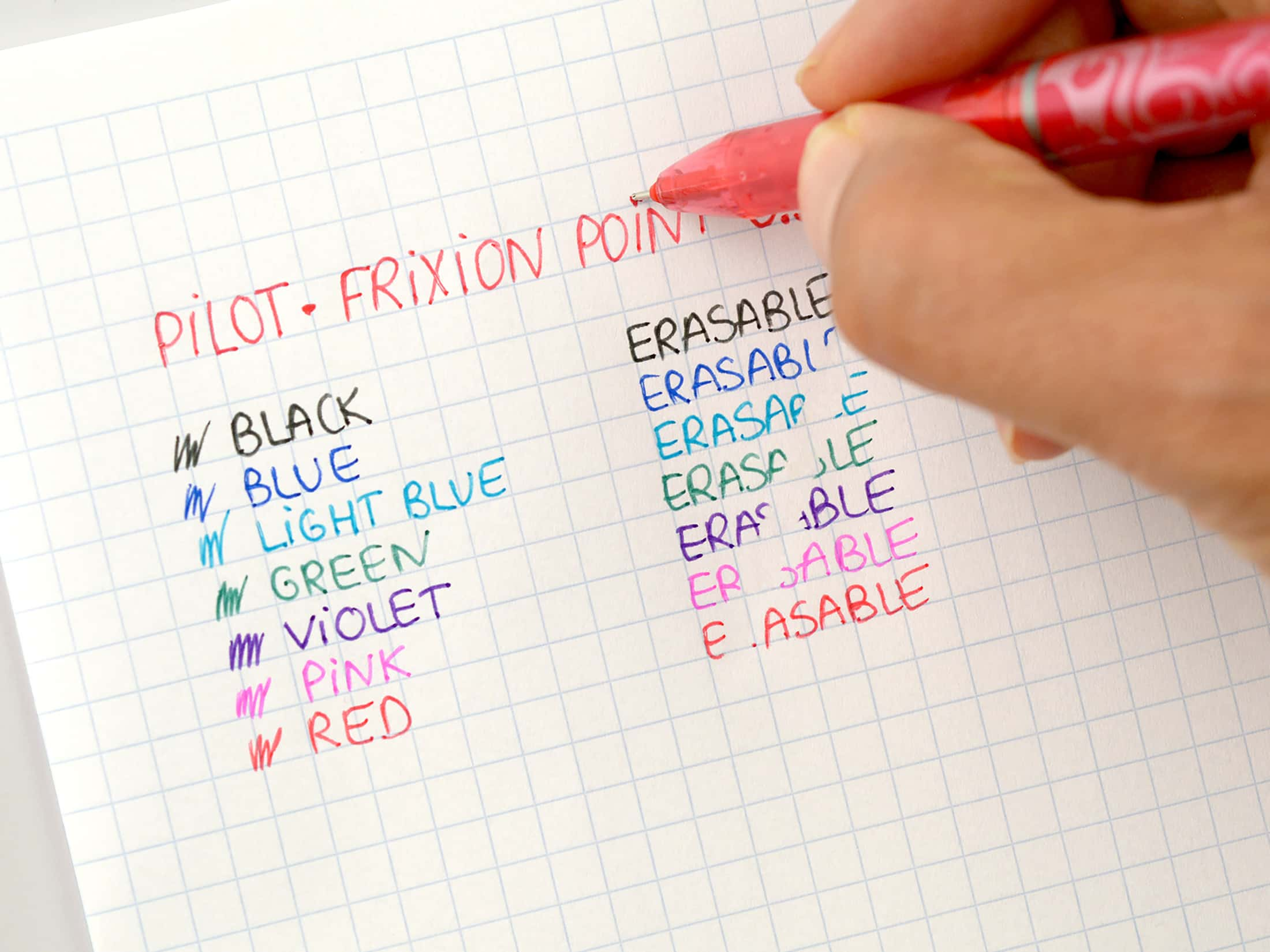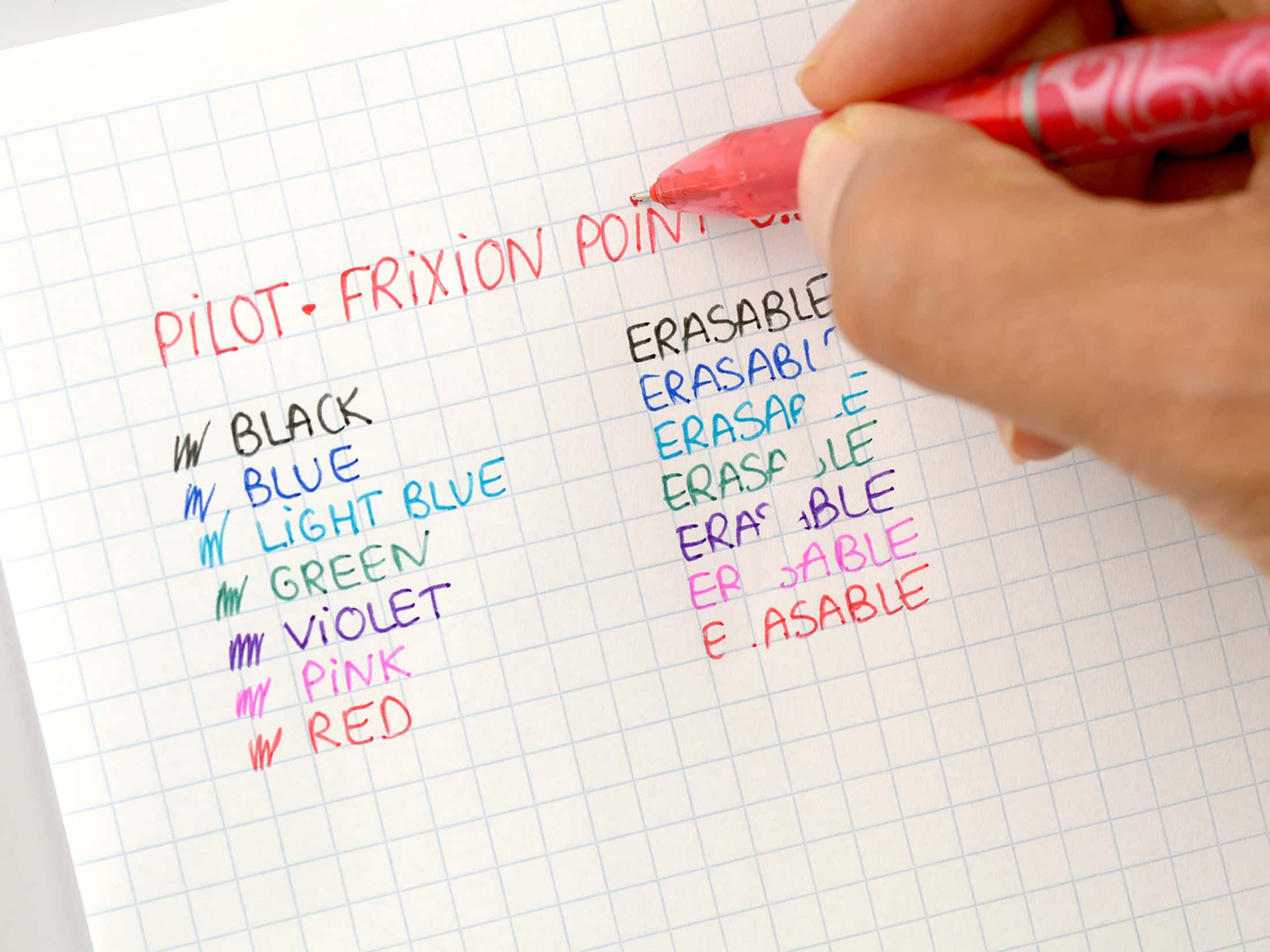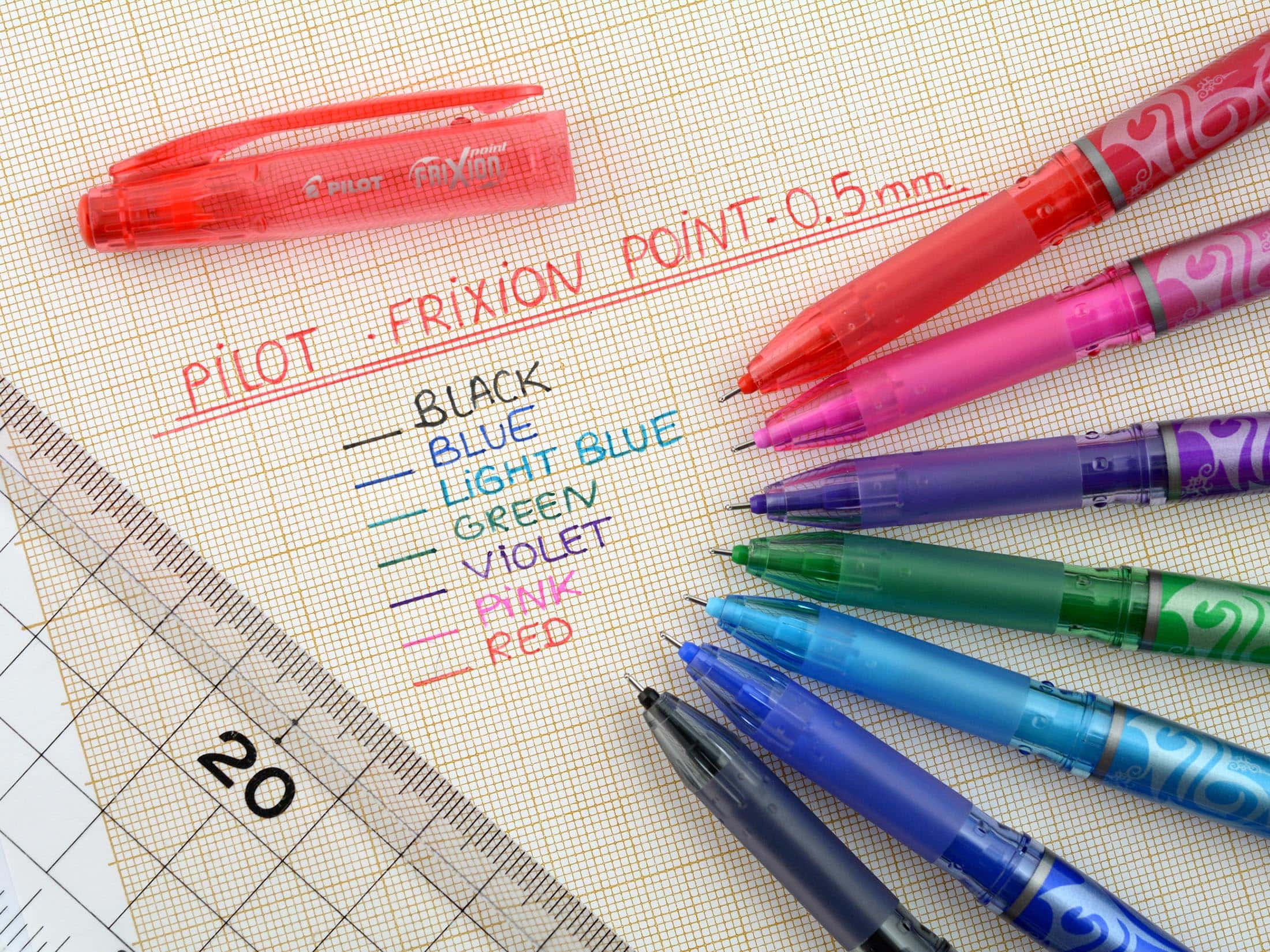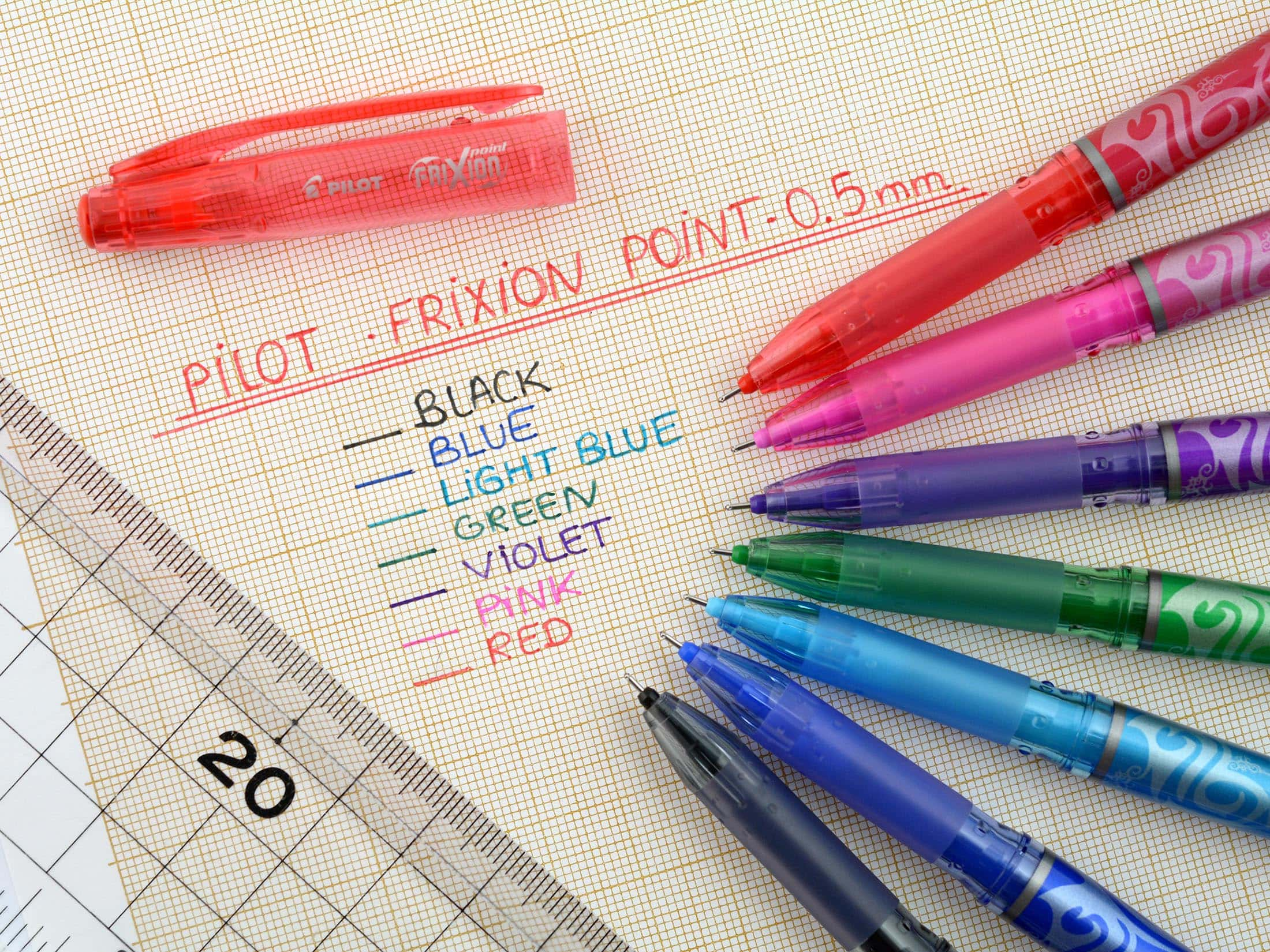 FriXion Point is ideal for those who are looking for finesse and precision. Its fine 0.5mm Hi-Tecpoint tip lets you write with incredible precision compared to cone rollerballs and its FriXion ink allows you to cleanly write and erase by friction and rewrite - all with the same pen. Simply rub out your mistakes with the eraser stud and watch the ink disappear as if by magic! The unique gel ink responds to the heat generated by the rubbing out, and lets you write over your mistake immediately with the same pen.
#Happywriting
Thanks to the patented heat-sensitive ink, PILOT has - true to tradition - revolutionised writing with the erasable pen FriXion Point.
Save yourself money and be kind to the environment by refilling your FriXion Point pen instead of buying a new one - it's never been easier to be green!
Because of the erasable ink, FriXion Point must not to be used for signatures, legal documents, examination papers or other documents where writing needs to be of a permanent nature.
FriXion Point is the ideal pen for
Benefits and features
Thanks to the erasable thermo-sensitive ink: Write, FriXion it and Rewrite immediately!
Effectiveness and writing comfort thanks to the unique fluidity and ultra-softness of the Pilot gel ink.
Available in a variety of colours, there's a FriXion Point for everyone!
0.5 mm fine tip gives a 0.25 mm fine stroke width.
Refillable product more economical and respectful of the environment.
Pen with cap.
Ergonomic grip to ensure perfect handling
Hi-Tecpoint tip for high precision.
0.5 mm fine-tipped writing.
FriXion it! with the "eraser" on the end of the pen.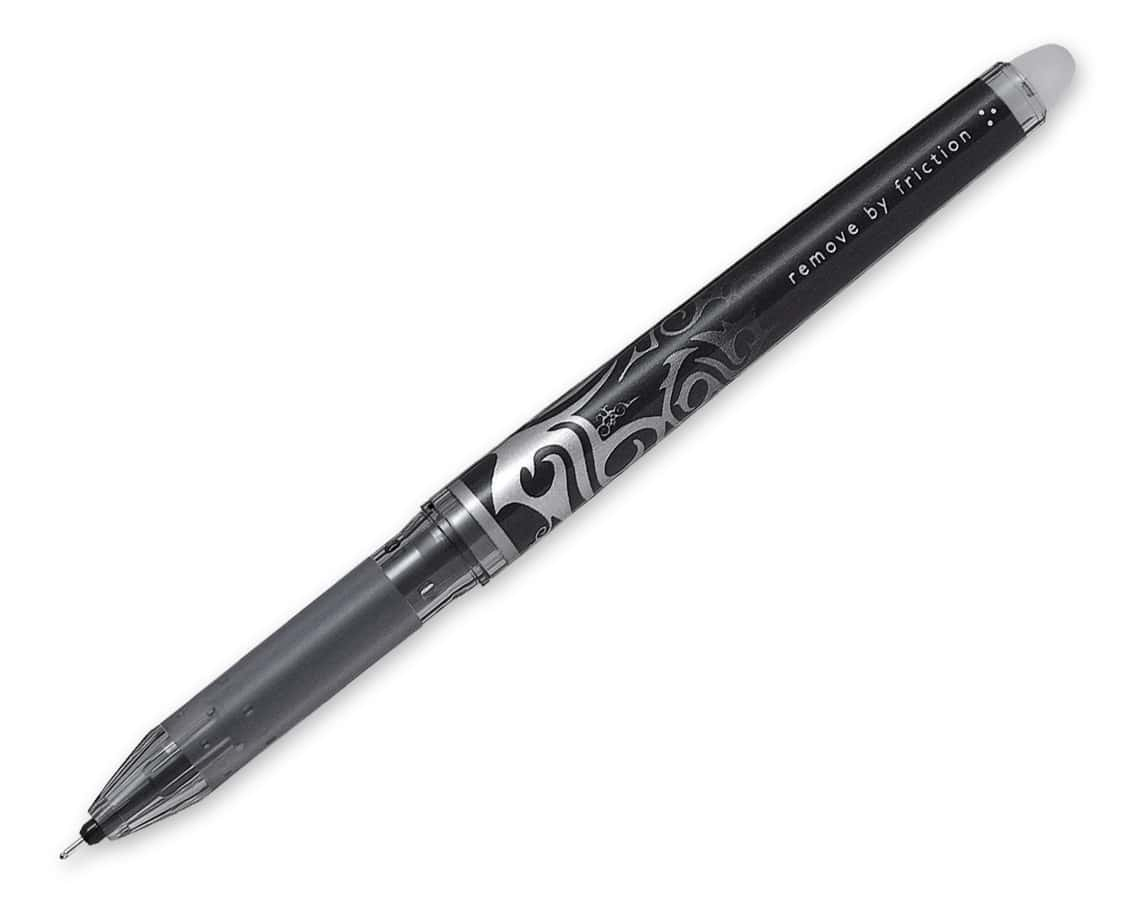 Must have & add-on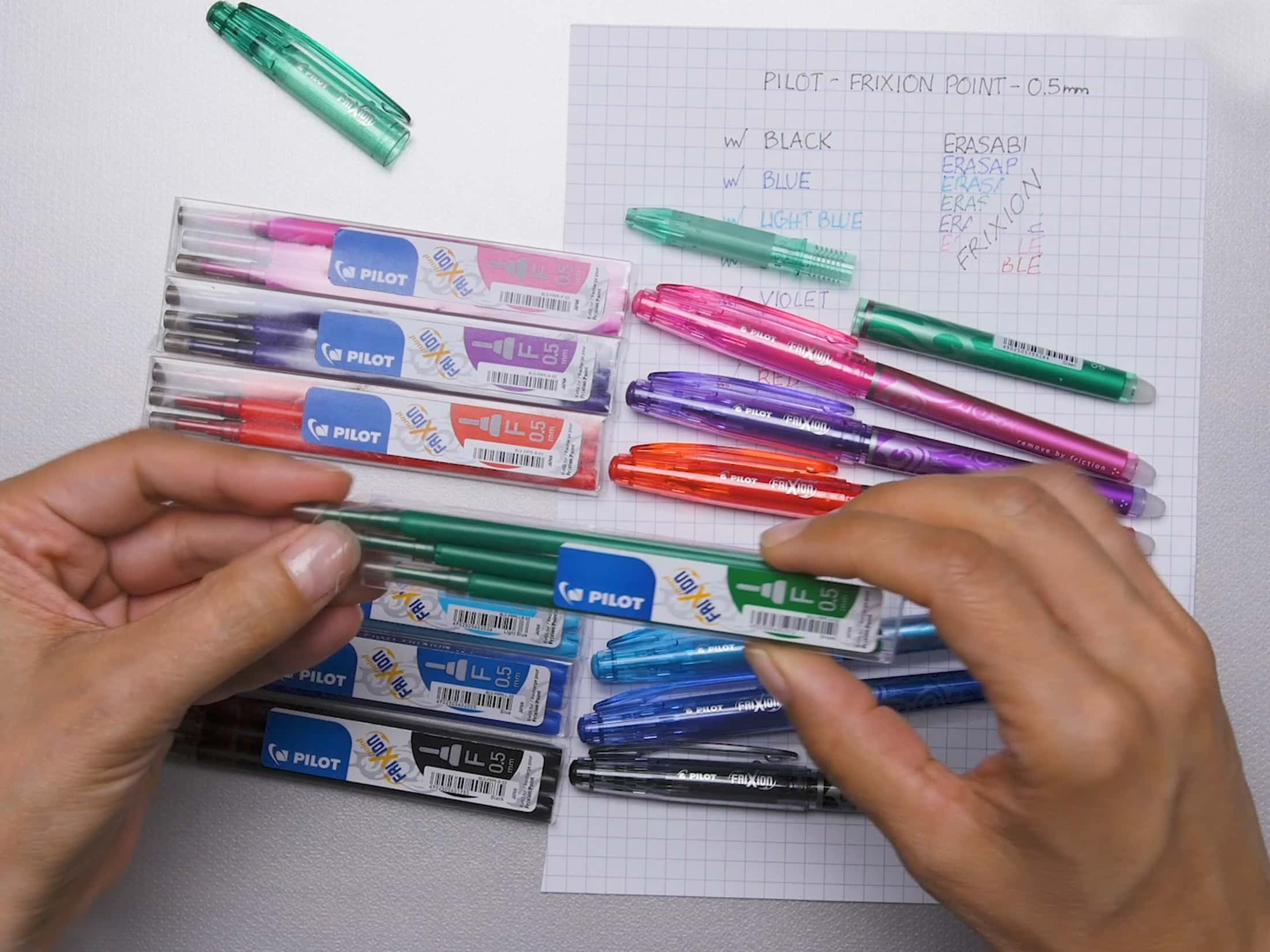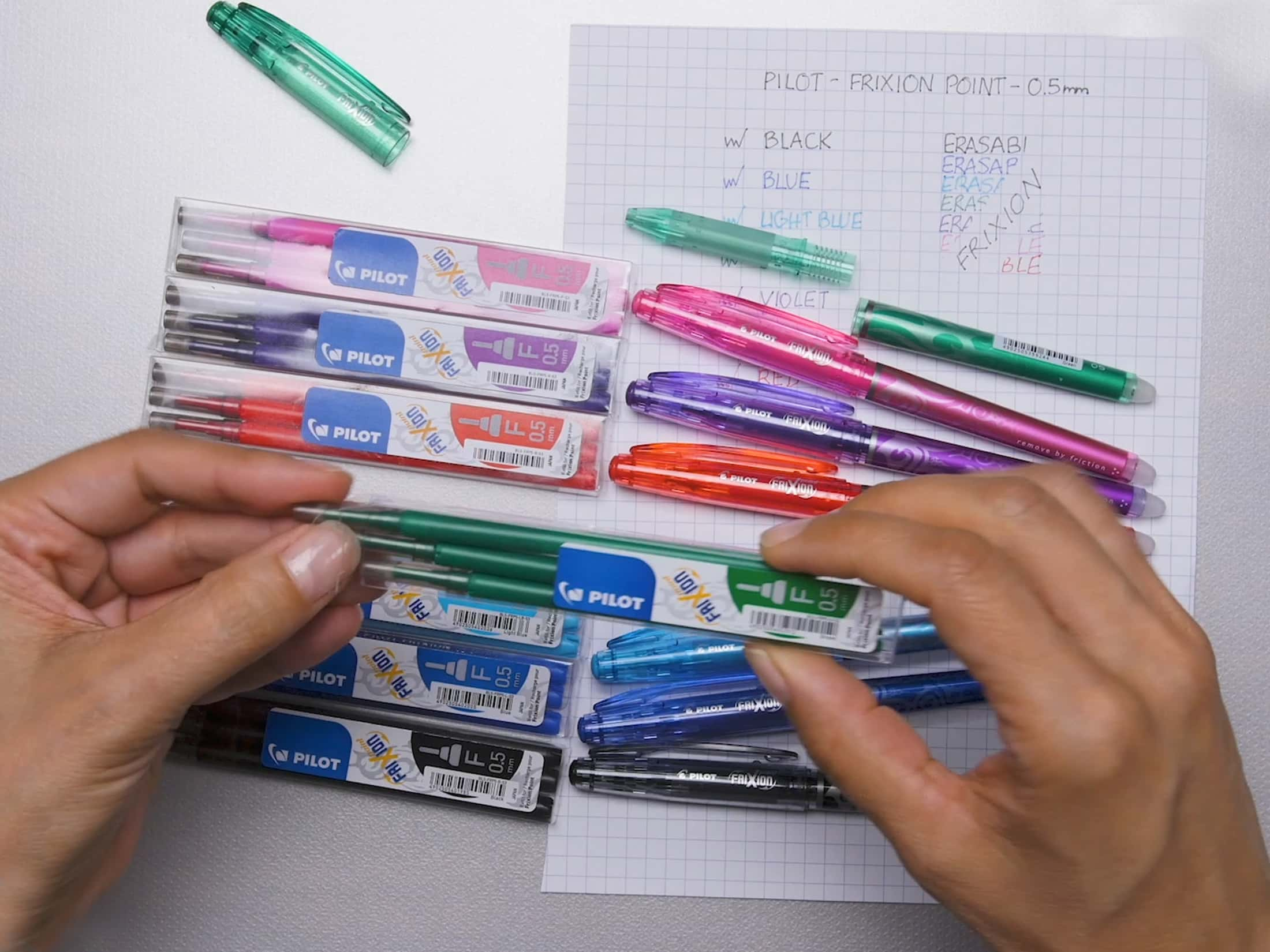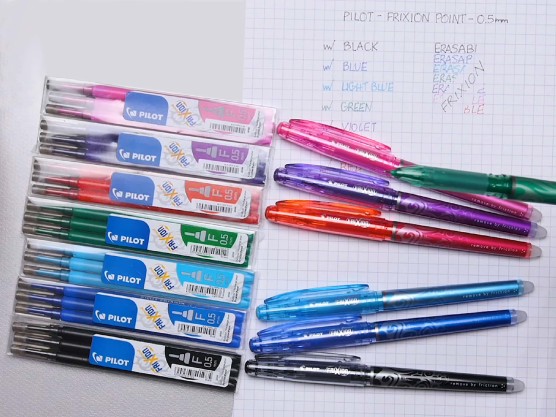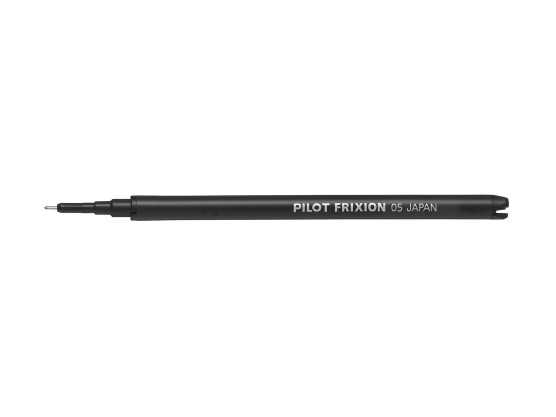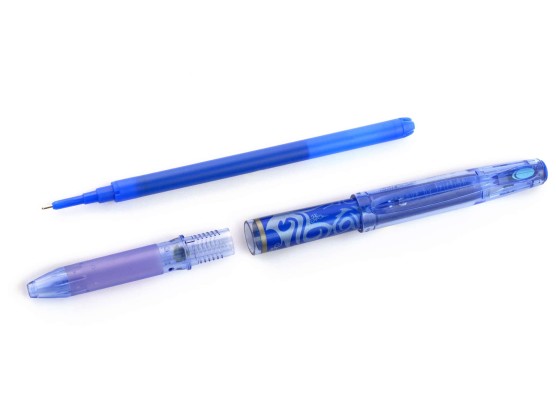 Set of 3 Refills
FriXion Point
Don't despair when your fantastic FriXion Point pen runs out, simply refill it with the FRIXION REFILLS and carry on writing!
Fine tip
:
0.5
mm
Writing width :
0.25
mm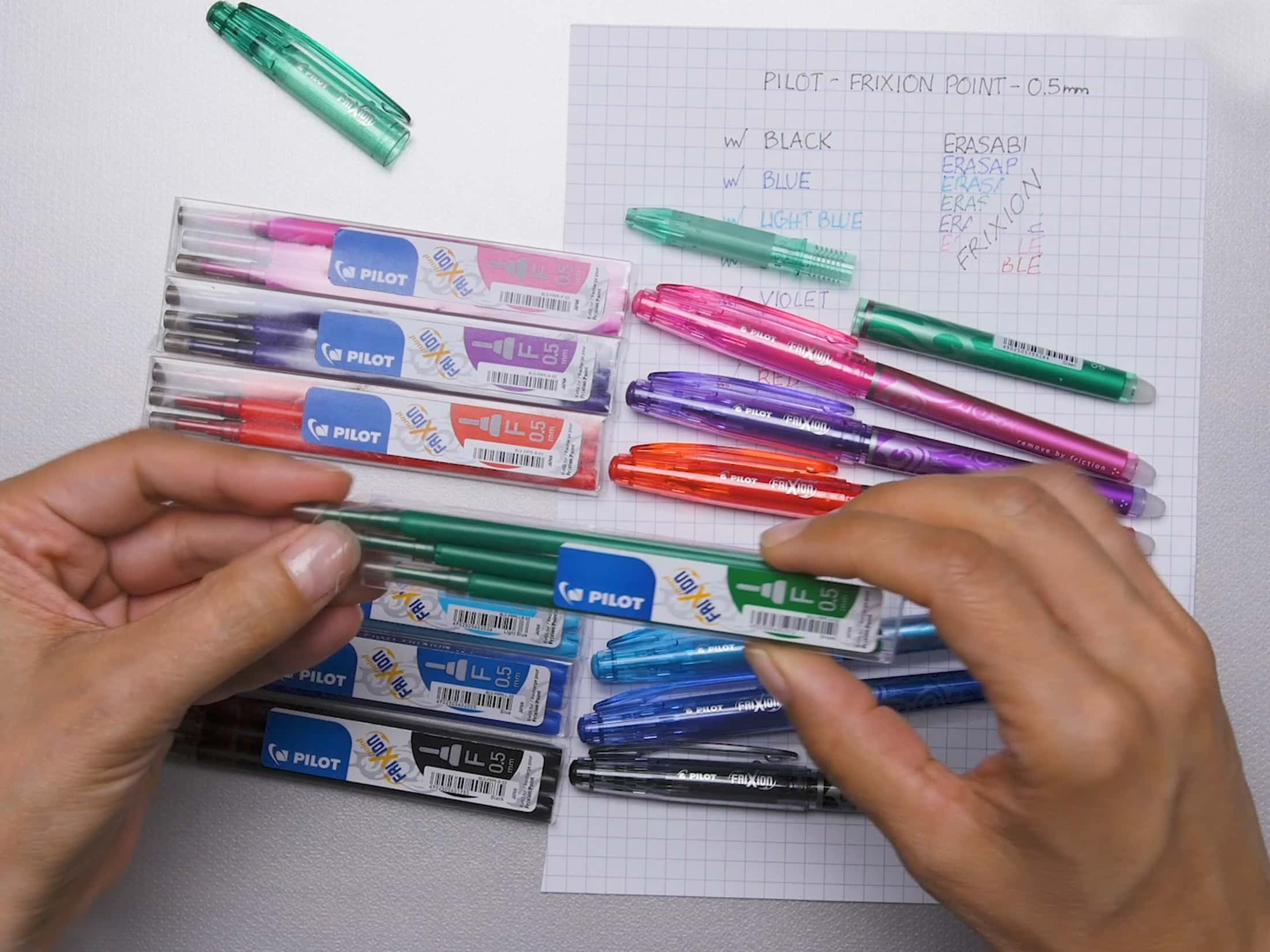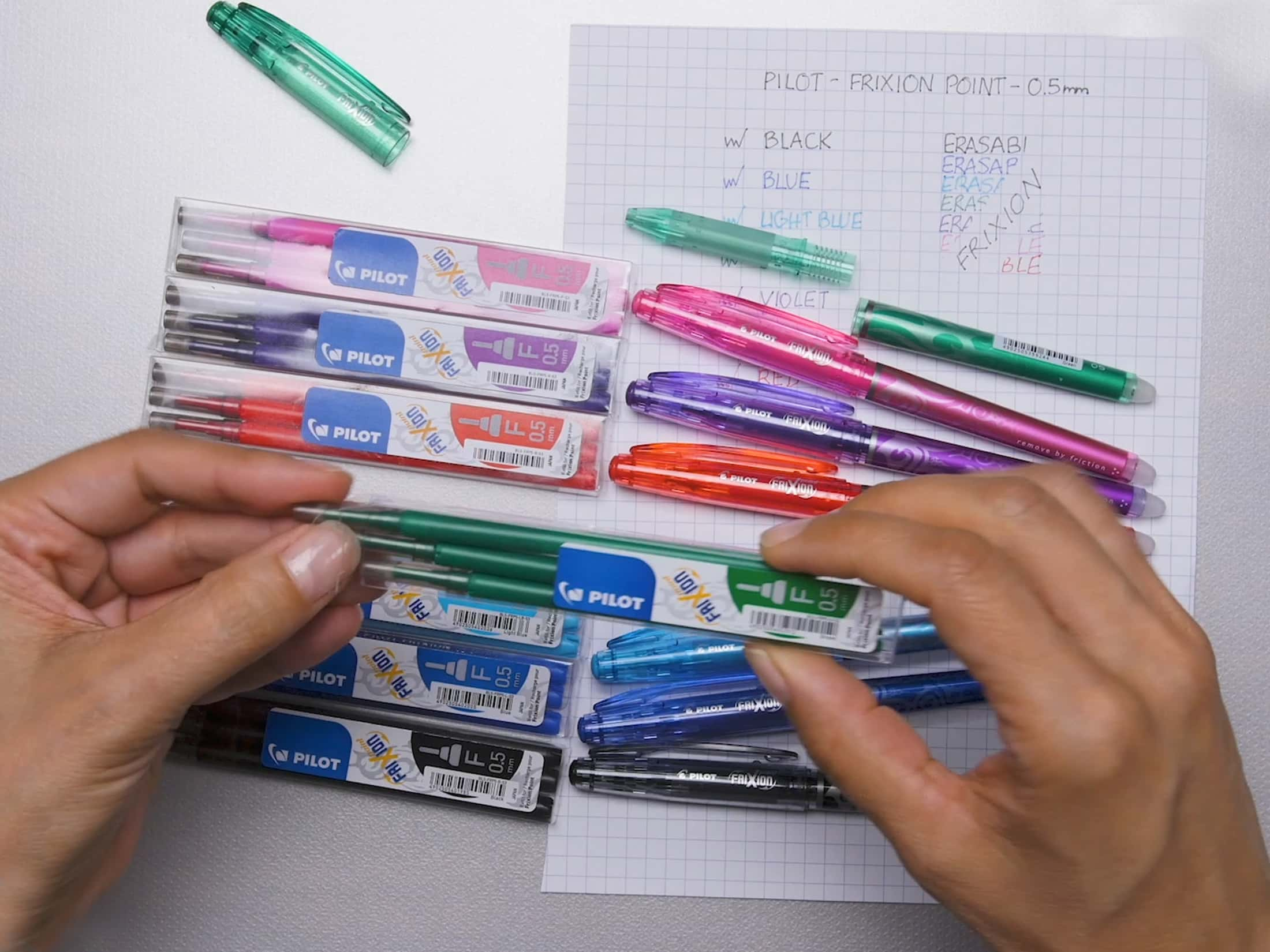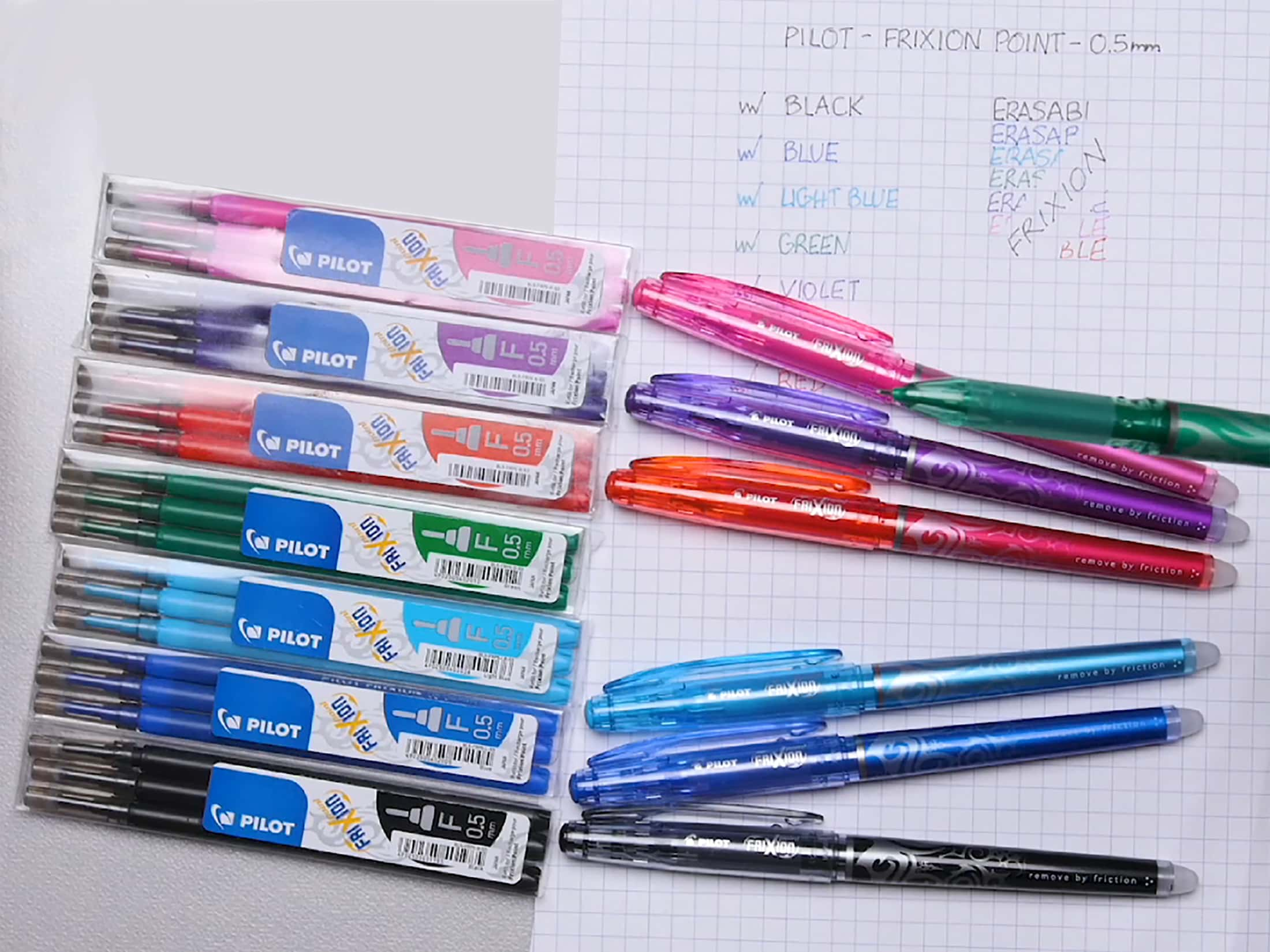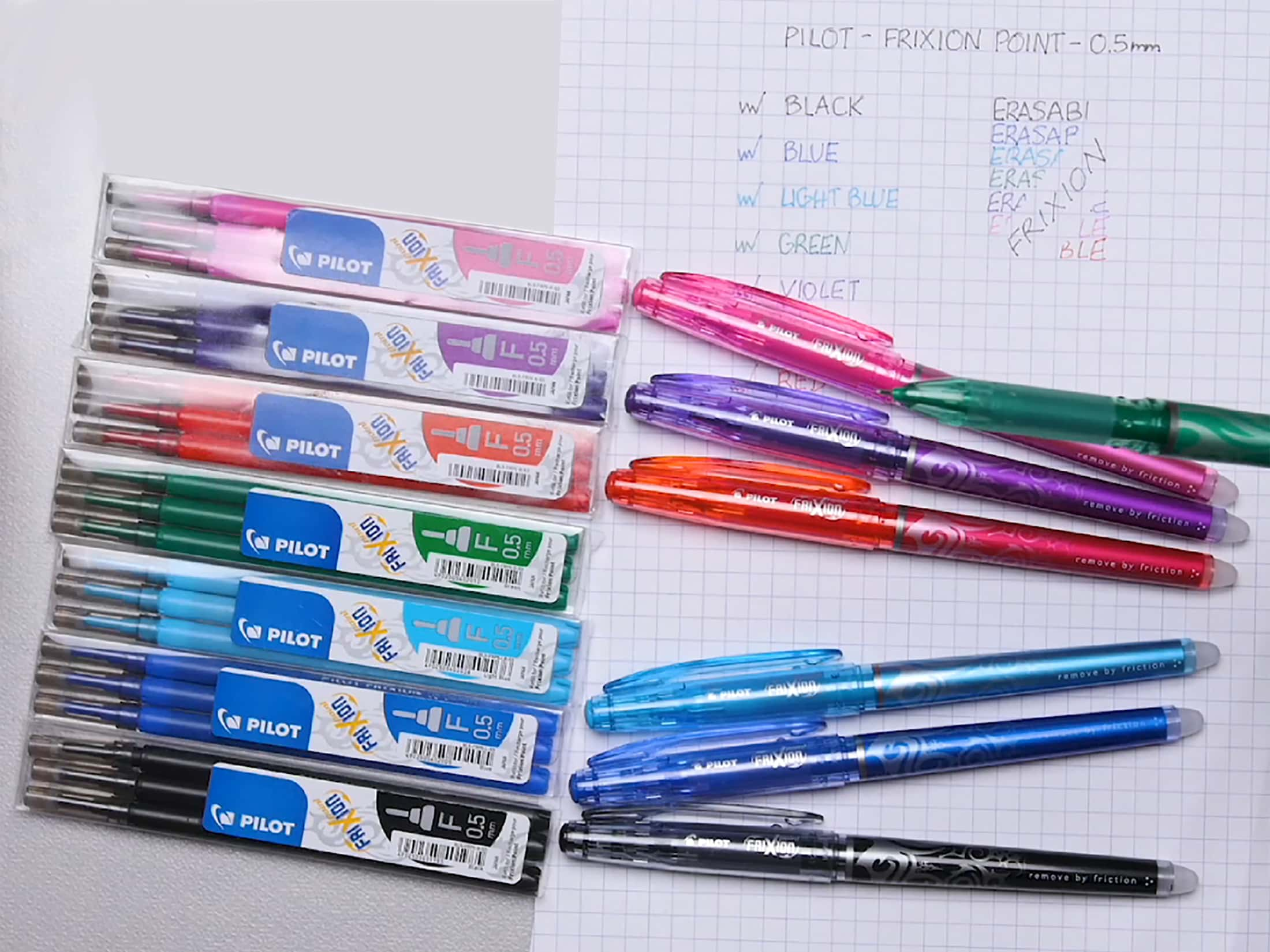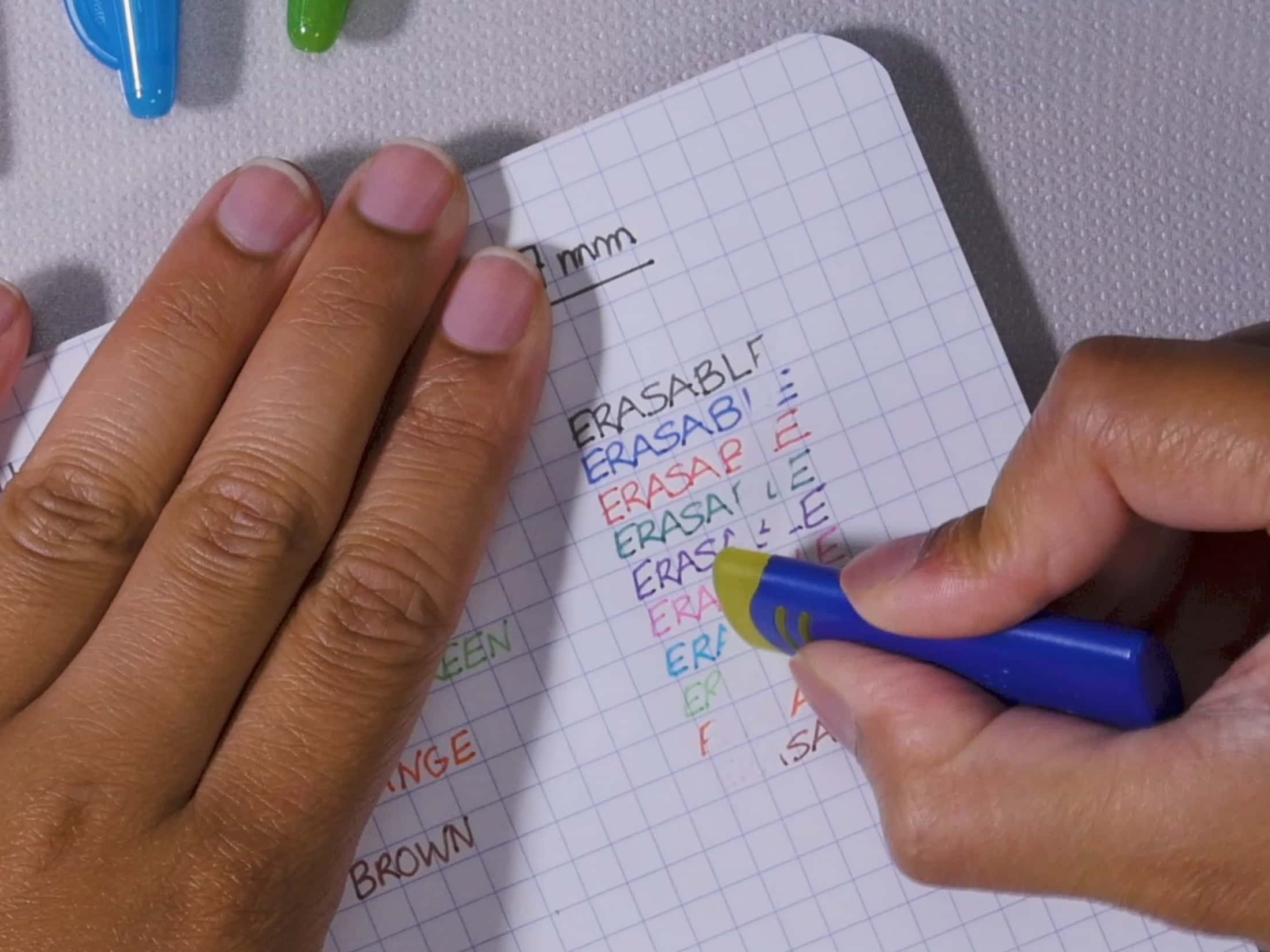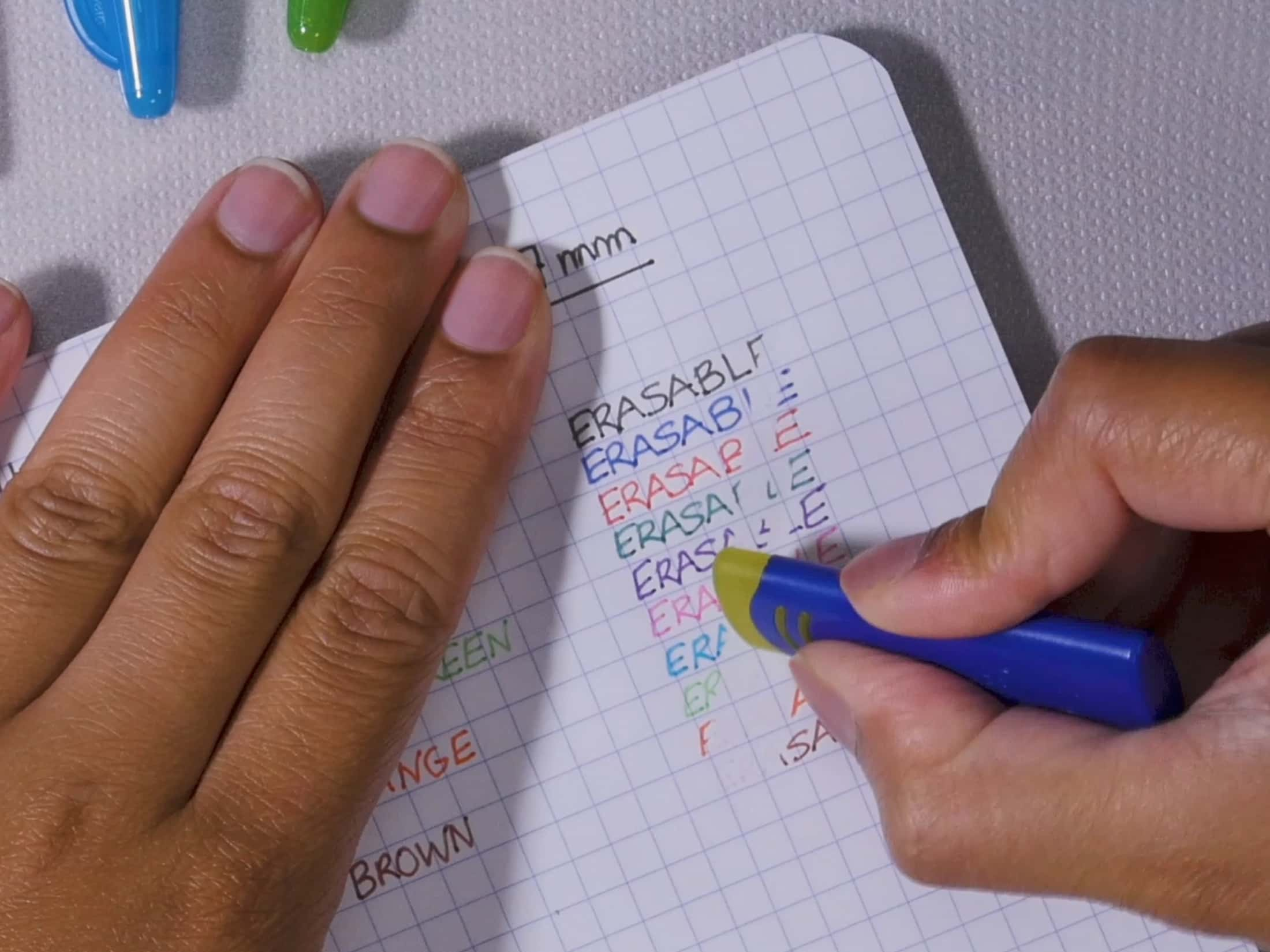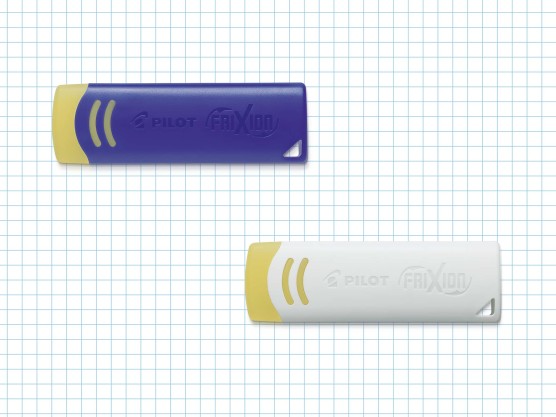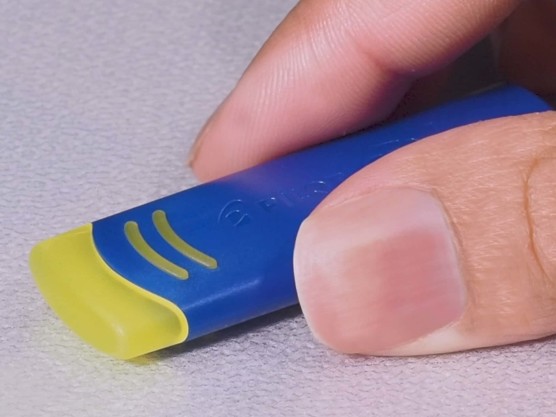 FriXion remover
FriXion Remover, a unique remover exclusively conceived for Pilot FriXion Fans!
Always ready to hand, on your desk or in your pen case, it's the perfect instrument to delete and start all over again. With FriXion remover, you've got the perfect accessory to erase more widely all your writings and drawings done with FriXion.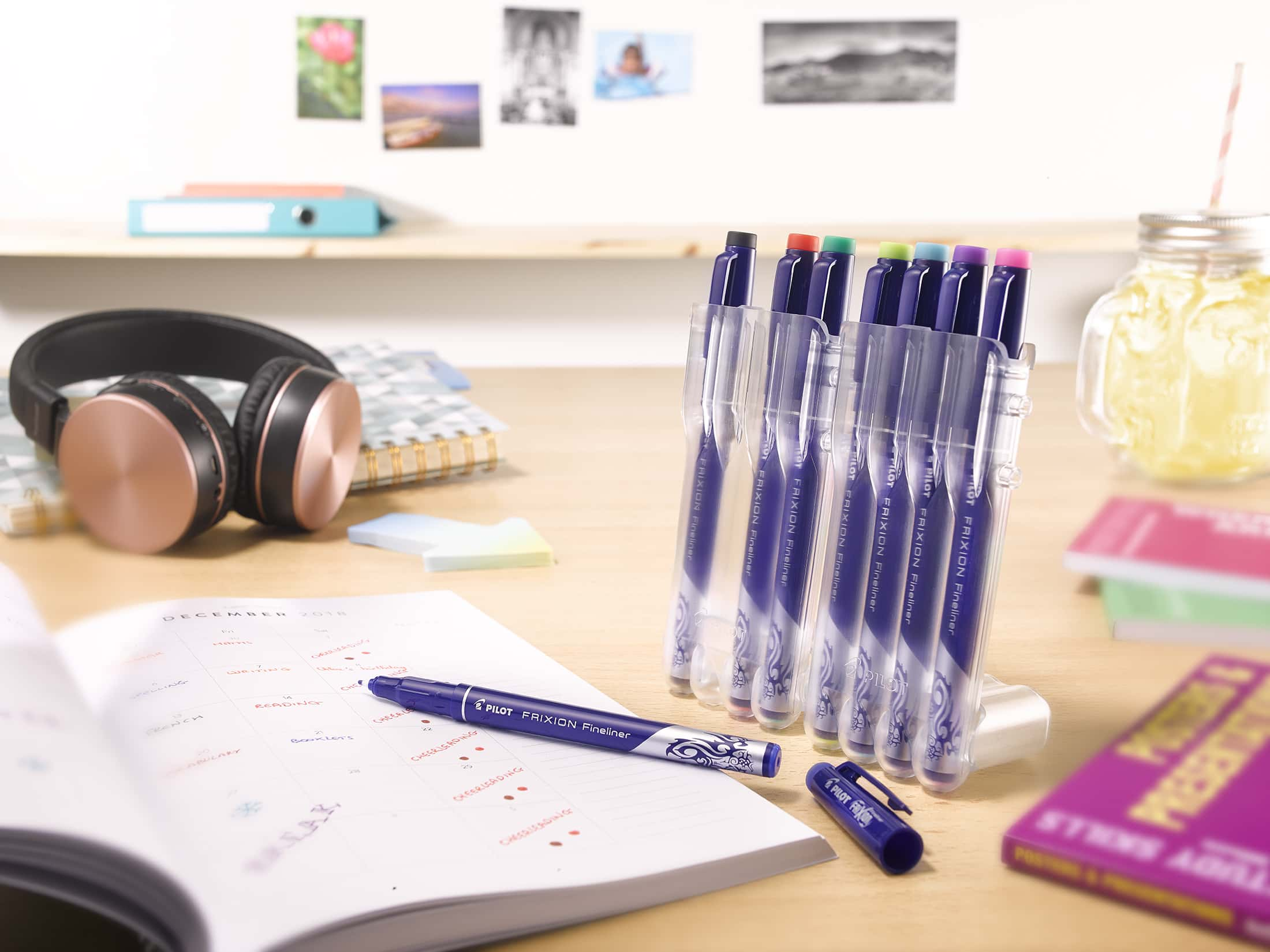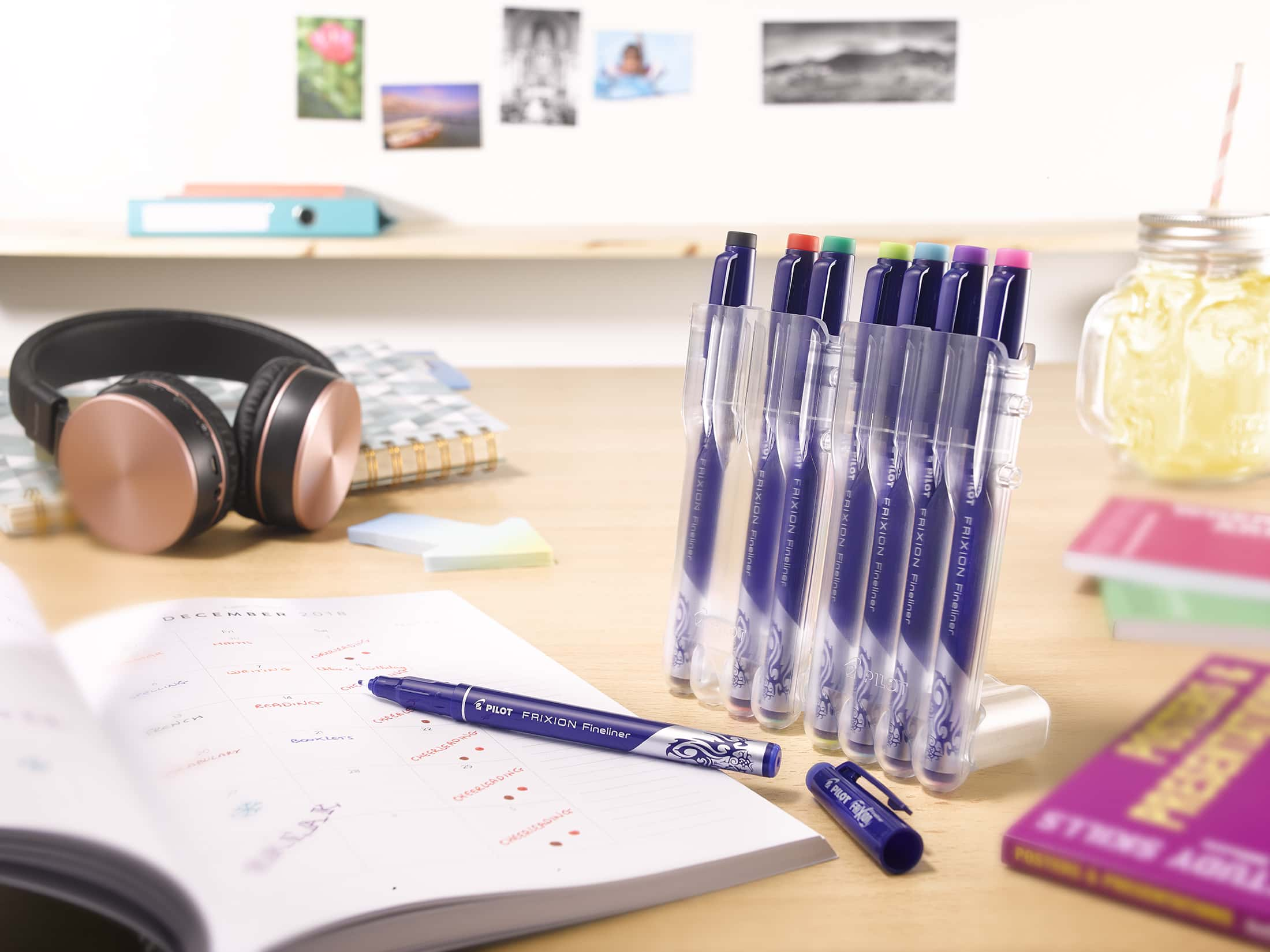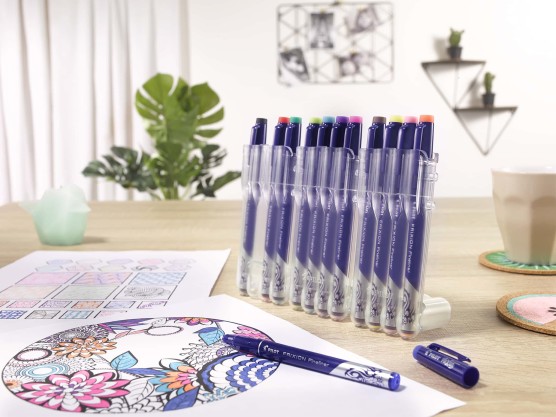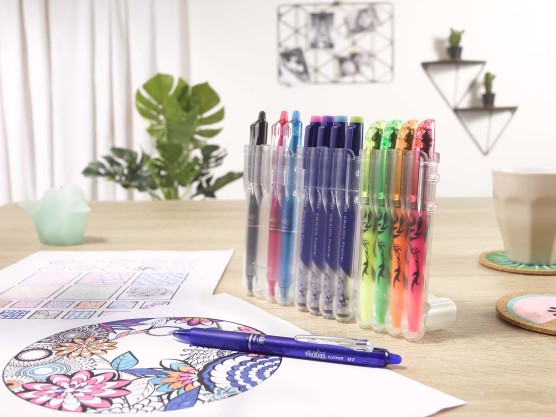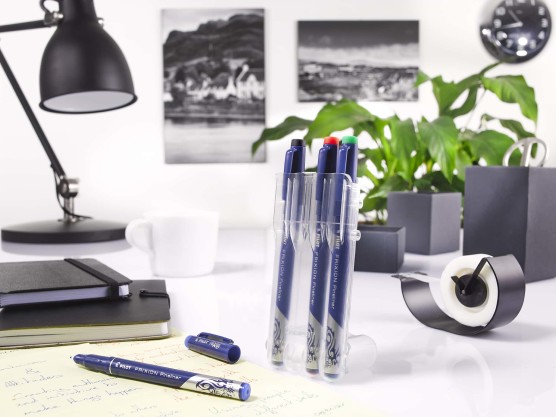 Set2Go
Pilot is proud to present the latest packaging innovation, designed and manufactured in Europe by PILOT.
Frixion Set2Got is a smart pen holder system made of 100% recycled plastic that can become a fantastic desk organiser. Compatible with many FRIXION Family pens, this set can be used on its own or can be coupled with one or more FriXion Set2Go desk organisers. The new organiser will perfectly suit all desks: at home or at work.
Eco friendly, it is reusable & long lasting packaging!
Inspirations
FriXion pens and everything you write, draw or colour with them are a piece of you.
It reflects your knowledge, culture, creativity, desires... Discover what our FriXion family inspires in the Instagram community called "FriXioner" and join the movement #FriXion, #PilotFriXion
@pilotpenuk